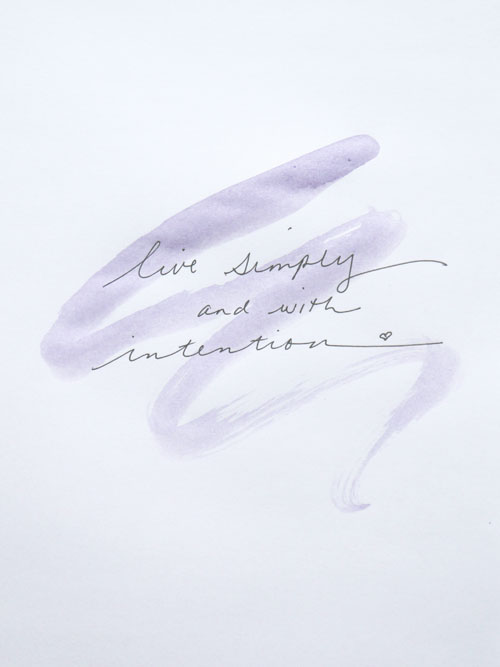 last week, on the tenth, i thought of ten ways i had embraced intentional simplicity for ten years … i had to think about it a bit, because when you do something for quite some time you may not realize it is actually intentional any more. however, this life is often enticing us – presenting itself – commanding us so that we pay attention to it and it can easily become over full. so i have had to be quite purposeful in continuing practices i started all those years ago.
:: simple exercise each morning when possible – i woke up one morning, years ago, and my back was out of place, it was painful and my normal stretching did not make it feel better. it progressively got worse and worse, until i was to the point where i could not lay down to sleep for three months. i did, at last, (after months of seeking) find someone to realign everything. however, i was weak and did not want an aggressive exercise to help strengthen my back, keep me limber and build my strength again. i found a qigong routine that really helped me stretch, balance and get strong again. i have been doing 'a.m. chi for beginners' when possible each morning for years now. it is a gentle and quiet start to the day.
:: no watching the news; morning, noon or night – i have actually had this practice for far more then 10 years. i prefer to access news that interests me by other means, typically what makes 'news' is sad, shocking or disheartening.
:: no television – i have never been much into television, but as years have passed there just seemed to be less and less of value to watch. so once digital replaced analog it was difficult to get any signal, and i thought it was a good breaking point. initially it was going to be a trial period of a year, but we don't seem to really miss it … we watch vhs or dvds that we have collected over the years. it has freed up hours of time.
:: reduced magazine subscriptions – as an interior designer i used to get 15+ magazines monthly, i would look at them all, read a lot of them and keep many. it all took a great deal of time even though i did like looking at them. i let them all lapse and purposefully kept getting only 2. i enjoy them and pour over them again and again as they are more special.
:: reduced junk mail – there does not seem to be as much junk mail as there once was, but years ago i stopped all catalogs, mailers and offers by calling and asking to be taken off lists. i still have to do this from time to time, but we have very little irrelevant mail in our box.
:: quiet time each night – i have done this for far more then 10 years as well. when my daughter was young i would instill quiet time an hour or so before her bedtime, only quiet play or reading. the years have gone by and each night i still light candles, typically have a hot drink in the cooler months and have quiet time before heading off to bed; time to reflect on the day and relax.
:: have a pet – even though pets can be (and are) more work, they add so much to our lives. having a cat has been so enriching, they are so fun to watch and play with, and ours is constantly by our side if she is not napping. they just have a natural way of calming when we interact with them.
:: have a family day – typically these would be sundays. the intention would be to spend the day together with no lists of 'must do'; usually starting the day with going to church and then perhaps visiting family or friends, watching a movie, playing board games, reading, light shopping, taking a walk, going for ice cream or whatever. now that my girl is off to college they are not so much a family day, but we still try to do similar things.
:: take time to listen – as my daughter grew up i would really try to make time to listen whenever she wanted to share something. when she was littler i would spend such a long time talking with her about her day after tucking her in to bed. we would talk about all the things that had happened in the day, ups and downs. i loved that time because we were at the end of a busy day and we just focused on the conversation because all else was quiet. as time passed we did not have this ritual as much, but it was still important to have conversation, so i wanted to take time whenever i could.
:: drive slower and allow more time to travel – i have found that if i can leave ten minutes sooner for a destination (of any length) then i think i need to, everything goes more smoothly. i have gotten much, much better at doing this and find it makes for such a better outcome if i drive slower and enjoy the scenery, no matter where i am off to.
there are many other ways to introduce simple living … these are ten that are important to me. what about you?
wishing you a lovely rest of the weekend :)