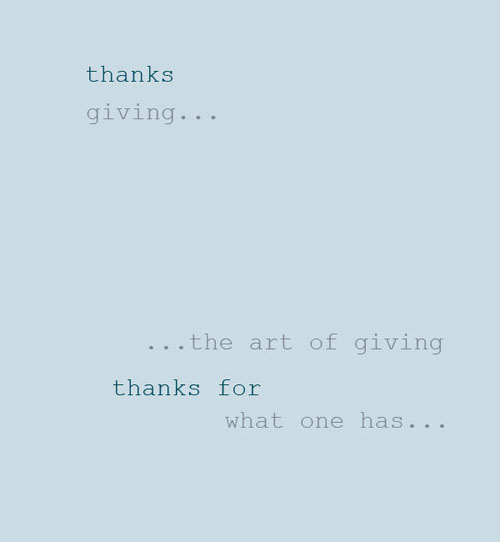 so many things to give thanks for … having my daughter home and her lighting up the room with her wit and love of life … being able to host the meal yesterday with turkey, stuffing and all the traditional extras, gathering around the table sharing laughter and tears … being blessed with a warm dry house protecting us from the bitter mid-western winter … dear friends to meet with as the weeks ebb and flow, learning and growing together …
i often start the day with giving thanks for where i am right now; at this moment, in this place, no matter how i am feeling. being present and acknowledging that i do not need to know the whole picture to be at peace with what is going on in my life on this very day. it is not always easy to remember to do this, but my desire is to be more aware of intentionally doing it.
i also want to give thanks for this pull in my heart to move outside of my comfort zone; to explore other avenues and learn things i know i am not so good at, but still have interest in. i would also love to get back to doing more craft or art type projects, things that i can put together or make with my hands, small and personal bits and pieces … and what better time to stay in, cozy and warm, then winter.